UPDATE:
Apparently, the thing cought fire, and the fire department came, and did something. They left no notes, and the RA just told us this a few minutes ago. How strange.
---
Last Tuesday, I submitted a RapidTrack Ticket with Kent State University because our micro fridge (that came with the room) was not cooling anything in the refrigerator or freezer. This became apparent when my roommate had left a jug of milk in the refrigerator and was not cold when he took it out (it was un-opened to my recollection).
On the rapid track website it says: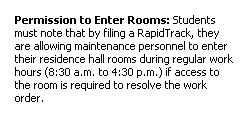 Which I would assume would NOT be on the weekend.
When my roommate came home this evening (Sunday, February 15, 2004) he found the micro fridge displaced from its original position, the cord had been removed, spoiled milk was spilled all over the wall and floor, the milk was in my shower bin, and the pleasant odor of spoiled milk.
I checked the RapidTrack ticket on the internet, and here is what it has to say:

No one is here (Sunday night) to clean this mess up and certainly nether of us are cleaning up this mess. So here we are, left with HORABLE nasty spoiled-milk smell in our room and these pictures as evidence:
| | |
| --- | --- |
| | |
| Missing Plug | New location of milk (was ontop of microfridge) |
| | |
| Milk on wall | Milk on floor |
I have no idea how this could mean "Completed". If the repair person who did this (Dennis Stroia) doesn't get fired, I will be in pissed.

-Charlie Hayes