By: Charlie Hayes
This past August I went to Best Buy to purchase a new printer because my Lexmark printer basically stopped working. I had already decided on an Epson printer, and when I went in, a representative from Canon convinced me to get a Canon printer instead. I got the i470D. After using it for a while, here is my review. If you're looking for specs, these are direct from Canon's page:
Print Speed (up to)
Black : 18 ppm*** (approximately 3.3 seconds per page)
Color : 12 ppm*** (approximately 5 seconds per page)
4x6 Color Photo : Approximately 93 seconds*** (borderless)
Number of Nozzles
Black: 320; Color: 768 (256 x 3 for C,M,Y); Total: 1,088
Print Resolution (up to)
600 x 600 dpi in Black
4800 x 1200 dpi†† in Color
OS Compatibility
Windows XP, Windows 2000/Me/98, Mac® OS (8.6 to 9.x) and Mac OS X v 10.2.1 to 10.2.x (see www.canontechsupport.com for updated compatibility)
Ink Compatibility
BCI-24 Black Ink Tank, BCI-24 Color Ink Tank
Standard Interfaces
USB (cable not included)
Buffer/Ram
56KB
Paper Sizes
Letter, legal, A4, A5, 4" x 6", 5" x 7", U.S. #10 or European envelopes
Paper Compatibility
Plain paper, envelopes, Canon Specialty Papers - Glossy Photo Paper, High Resolution Paper, Matte Photo Paper, Photo Paper Plus Glossy, Photo Paper Plus Glossy For Borderless Printing, Photo Paper Pro, Photo Paper Pro For Borderless Printing, Transparencies, T-Shirt Transfers
Paper Handling
Built-in sheet feeder - 100 sheets @ paper weight 17 lb.
Envelopes - 10
Glossy Photo Paper (8.5" x 11") - 10 sheets
High Resolution Paper (8.5" x 11") - 80 sheets
Matte Photo Paper (8.5" x 11") - 10 sheets
Photo Paper Plus Glossy For Borderless Printing (4" x 6") - 20 sheets
Photo Paper Plus Glossy (5" x 7") - 10 sheets
Photo Paper Plus Glossy (8.5" x 11") - 10 sheets
Photo Paper Pro (4" x 6") - 20 sheets
Photo Paper Pro For Borderless Printing (4" x 6") - 20 sheets
Photo Paper Pro (8.5" x 11") - 10 sheets
Transparencies (8.5" x 11") - 30 sheets
T-Shirt Transfer (8.5" x 11") - 1 sheet
Noise Level (Approx.)
45 dB(A) in best quality mode
Physical Dimensions
15.5" W x 10.1" D x 8.6" H
Weight
8.8 lbs.
Power Source
120V AC, 60Hz
Warranty
1-year limited warranty with InstantExchange program (certain conditions and restrictions apply; see www.canontechsupport.com for details)
Software Included
Setup Software and User's Guide CD-ROM including†††: Printer Driver, electronic Photo Application Guide, electronic User's Guide and e-registration, Easy-PhotoPrint (Windows/Mac), PhotoRecord™ (Windows), ZoomBrowser EX (Windows), ImageBrowser (Mac), PhotoStitch (Windows/Mac) and Easy-WebPrint (Windows, requires Microsoft Internet Explorer version 5.5, version 6.0 recommended)
† Prices and specifications subject to change without notice. Actual prices are determined by individual dealers and may vary.
* Memory Stick®, CompactFlash™, Microdrive™, SmartMedia™, SD card™ and MultimediaCard™.
** For a listing of compatible Canon digital cameras and camcorders featuring Bubble Jet Direct technology, visit www.usa.canon.com/consumer/bubblejetdirect
*** PPM print speed based in high-speed driver mode. Photo print speeds based on default driver mode using Canon Photo Paper Pro. Print speeds will vary depending on system configuration, software, document complexity, print mode and page coverage.
†† Ink droplets can be placed with a minimum pitch of 1/4800 inch.
††† System requirements vary by application. ImageBrowser, Easy-PhotoPrint and PhotoStitch are not supported in Mac OS 8.6.
Installation
The software installation was easy, but very poorly designed. The "installer" extracts a web page and another installer which is linked to in the web page. After it extracts the files, it opens the page in the default browser, unfortunately, that is a BAD thing. The page only works correctly in Internet Explorer. The page itself has links to installers and uninstallers for the driver and accompanying utilities. Why there isn't an installer that just installs the drivers and coppies an uninstaller is beyond me. I could even see a little program that launches the other installer. But a web page, which you have to click on a link, then open, then you get some Microsoft security warning that it's an exe and it may be a virus, that doesn't work in Firebird and has confusing instructions that are poorly laid out quite like this run-on sentence? That's crazy.

So it copies the files, and then opens the page. You click on the link, it says "Open or save?" (at least there's a screen shot of that and instructions in the page) and you click open. It launches, and asks you to insert the printer cable and starts polling for the printer (more on this later). After you plug it in and like 20 seconds pass, it installs and you're ready. So much for plug and play.
Drivers
I'm surprised how nice the UI is for the drivers. The icons aren't lame XP-ish or custom. They are nice 95/98/2k icons that fit right in with my Classic appearance.
There is a really cool preview option that is like a print preview, but only generated by the actual driver, which takes all the "will it really look like this?" guess work out. It helps a lot with the printer's borderless printing, and other neat little features. It's also nice when a program doesn't provide a print preview window itself. Unfortunately, there's no way to rotate the page so landscape well, is on its side. But it's a really nice feature none-the-less.

There are so many options in the drivers that it lets you make "profiles" for a certain set of options. This would be a nice touch if it were executed correctly. When one opens the print options, the first tab that comes up is the "Main" tab, not the "Profiles" tab. When you click on the profiles tab, you get a list of profiles and a summary of the options. To save the profile, you click "Add to Profiles" which should be labeled "Create new profile based on current settings" or just "Create" with a nice tool tip. So you click on it, and it brings up a little window for you to give it a name, an icon (nice touch), and a description. Alas, the name box is limited to only 32 characters and you are limited to the icons that come with the program; you can't add more (I suppose you could hack some DLL, but still). Ok, so you click ok and (again) alas, a message box "the profile x has been created". How COMPLETELY worthless. So how do you load a profile's settings? You click the "Retrieve from Profiles". Just clicking on the profile in the list doesn't work. So you click the retrieve button and up comes "The current driver settings will be lost" etc. Well that would be barely acceptable if clicking on a profile loaded it, but this is pathetic. At least the delete button is just "Delete" instead of "Erase profile from existence after some annoying message" which there is a message "Are you sure?" but it's really a more wordy, annoying, and confusing: "This entry cannot be restored once deleted. Do you want to delete entry 'x'?". What a fantastic feature ruined by a disastrous UI.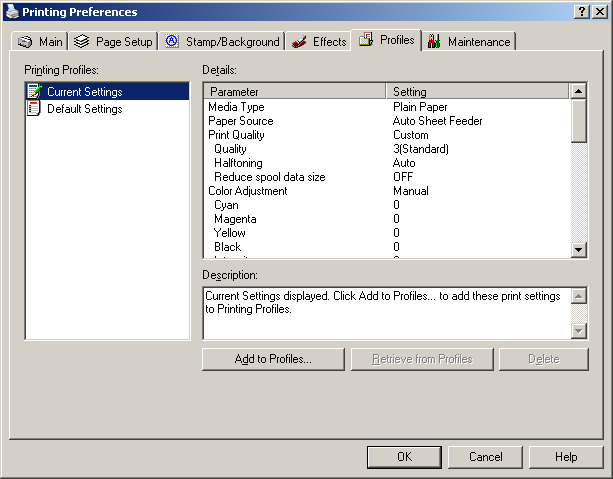 Believe it or not, it gets worse. When the printer is out of paper, it comes up with a window saying "Please add more paper" but it doesn't just sit there, it launches a "polling" program every second! So, every second the cursor turns in into an hour glass and the 'program opened' sound plays (if you have one assigned). It does this for all other errors like this (ink, cover, installer locating the port the printer is in, etc).
The printers alignment page is much better then the "pick the straightest line" from my older HP or Lexmark printers. Canon's alignment page is "pick the most solid bar" which is much easer to do.
General Hardware
The printer makes an awful lot of racket when you first turn it on when its been off, after its been idle and you try to print, or sometimes in the middle of printing. It takes about 2 minutes to complete this cycle. After this it's pretty quiet.
Now that we've discussed the driver's architecture, let's go on to the abysmal hardware/USB/possible-Windows problem.
The printer has some memory card readers on it, so the clever folk at Canon made the printer actually a hub which the printer and the memory card reader is plugged into (when you plug the printer into the computer, it's actually a hub into the computer). This way, the driver takes FOREVER to install as windows enumerates all the devices. FANTASTIC! After using the printer for a month or so, when you print, an error comes up. And that's pretty much all the information you're going to get. "There was an error printing". I have solved the problem by plugging into a root port instead of a hub. (Wasn't the point of USB to make it so you can have hubs? It drives me crazy when companies don't make their devices "hub-able")
Now when it comes time to restart when the printer is plugged in, Windows takes an appalling additional 3 minutes to boot. I originally thought this was because Windows sucks and I needed to reinstall, so I did. I stuck the bootable installer CD in, rebooted, and low and behold, the installer CD took 3 additional minutes to boot up. Obviously there's a grave problem with this printer's USB support.
Customer/Tech Support
I decided to call Canon to attempt to solve this USB issue. I went to their web site and determined I needed to call long distance, and since the place was only open during the day, I could not use my free nights and weekends cell phone plan. ARG!!! So I called them, and here was the normall worthless menus "This menu has changed, please listen carefully" crap. While on hold, some guy keeps repeating how fantastic the company's tech support is and how knowledgeable the people are. I finally get to talk to some one and this guy is clueless. It became obvious as when he had me go through my USB devices in Device manager, he thought the "OpenHCD" in "Standard OpenHCD USB Host controller" was the manufacturer of the USB chip. After I talked to him at length, he talked to some "senior tech" and they said the only thing they could come up with was that I needed new drivers (wouldn't help since it's in the Windows installer too) and latest MB updates (BIOS). I told him I did and he said he couldn't help me. So after 30 min on long distance tech support, I got nowhere.
I called the main 1-800-OK-CANON line to file an "official complaint" and after a few transfers and explaining, according to them they have told the engineers about the problem, and they will look into it. Some how I don't think they did.

Print Quality
Wow, one of the only good things about the printer! It has very good output quality, no banding, awesome photo paper output, borderless printing on 8.5 x 11, great color, etc.
Miscellaneous
I haven't used the memory card direct print or direct printing from a camera features, but I did test it in the store. You're very limited on the output (much more limited then the Epson printers, in the store) but I suppose if you didn't have a computer, this would work fine. One of the larger problems for the computer-less printing is how slow it is. It's really is quite unnerving.
The extra display and memory card readers no doubt dramatically increase the manufacturing cost of the printer, but Canon doesn't charge much more for it. Who knows why.
This printer has a paper thickness switch inside above the cartridges, but no other printers have had this switch, and it's very picky you use it when you "need" to. It won't let you print without switching it, and you have to switch it manually. Something like this should be automatic.
This printer seems a lot more solid then other printers, but that's just my opinion.
Conclusion
If it weren't for all the USB problems, the horrible installer, the crazy profiles tab, and the polling, this would be the perfect printer! But these easy-to-fix problems make this printer quite annoying to work with, especially when you're trying to print a paper in a hurry for class and it's giving you nondescript errors.
All in all, I give this printer 3.5 out of 5 um.. stars? points? I don't know, first review, haven't set a standard yet, etc.
Although this printer's score was marginal, I must say that my Lexmark would get about a 2 and HPs... Well, they're HPs. I haven't used one in years (except lasers), so I can't say. I haven't used an Epson (on Windows) yet, but I did use on my mac in OS 9. It was really bad, so I returned it. The software/drivers were not made like standard mac printer drivers. They were just crap.
The ink jet printer manufacturers need to get their butt in gear pronto. This industry is in bad shape. It should be much better.