Over-the-top Marketing on Memory Foam Pillow
Posted by Charlie Hayes on Tuesday November 11, 2008 @ 2:35 AM EST
The marketing department over at Sleep Innovations went a little over the top on marketing for their pillow box. If we took their marketing material as fact, here is some information about the pillow:
Pillow is made for bed sleep. Will not work for any other type of sleep.
This will work for any sleeper, counter to the previous statement. Even Elephants.
This pillow is made of ejected black-hole core material. It is of the highest density.
You would be unable to find a pillow with better support. This pillow has better support than a custom made pillow.
It would be impossible to find a pillow that provided more comfort. This pillow provides maximum comfort.
This pillow's style is of maximum quantities. Not a single designer could design a pillow with better style. This pillow is of such high style that every single human being would agree, this is the best looking pillow.
Due to the ultimate nature of this pillow's support, comfort, and style, it will allow you to achieve the ultimate sleep experience. For you, this experience might be the most horrific nightmare, however this experience would remain unsurpassed.
This pillow was custom shaped for you. This personalized shape just so happens to not only be the best for you, but for every other sleeper in the universe.
The support provided by this pillow is therapeutic in nature. It will cure any disease.
The cover this pillow has been wrapped in adds a squishy grace that no other pillow can provide.
People within the United States have received deep pleasure when they exercised skill when making this pillow. However the Premium Cover was slave-labor produced in China.
The company responsible for designing and manufacturing this pillow has come up with new and original designs related to sleep. The other 106 billion [citation] had not yet thought of these designs.
Bullshit highlighted in pink!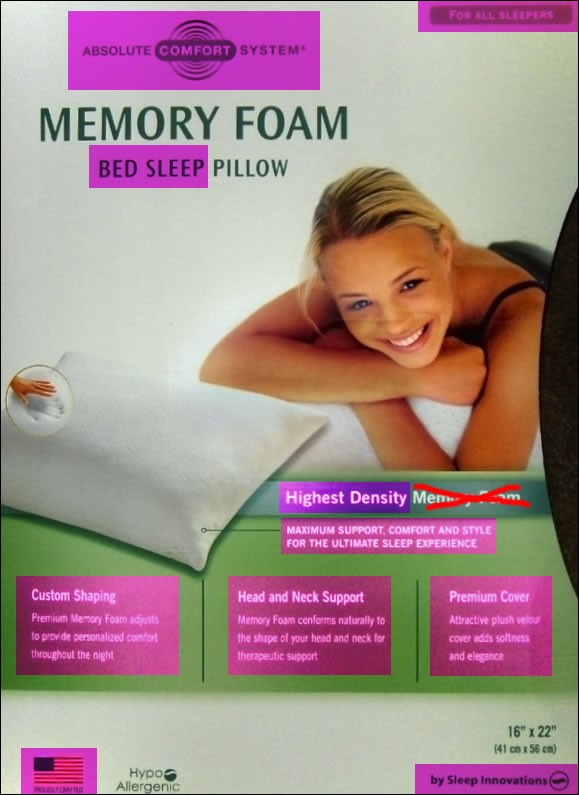 Magic Eraser: I Never thought itíd work
Posted by Charlie Hayes on Wednesday October 22, 2008 @ 10:15 PM EST
I got this cheap silverware from Wal-Mart last year. I bought 2 6-packs of spoons, forks, and knives. They packaging for each pack was a single label wrapped tightly around and glued to the utensils.
When I got home from the store I took them apart but the glue was stubborn! I tried GooGone. It helped, but didnít totally work. I tried soap and water, didnít help at all. I tried boiling them for an hour, didnít work. I gave up and thought the glue would wear away as they were used and washed over and over. It didnít.
I remembered that I bought some Meijer-brand Magic Erasers when they were on clearance. I tried one andÖ IT WORKED! It was effortless! Before and after shots:

(mouseover for after)

Root beer containers
Posted by Charlie Hayes on Thursday September 11, 2008 @ 8:10 PM EST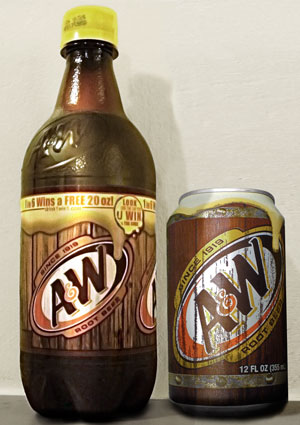 A&W bottles their root beer in a plastic bottle which has been designed to look like a glass bottle... which itself has been designed to look like a wooden barrel! As you can see, their aluminum cans also have the wooden barrel facade.
At White Turkey near Computer Camp, they have a humungous wooden barrel which customers are to believe contains root beer, which you can see in a few of the pictures on their super cool slide show. But, guess what! It doesn't! It contains a relatively tiny root beer syrup bin and I'm guessing a plastic line to their carbonated water supply.
There seems to be a wooden barrel root beer conspiracy! Where can I find root beer that is actually inside a wooden barrel? If the wooden barrel was so important as A&W and RICHardson (White Turkey's root beer supplier) want us to believe, then why not just sell it in REAL wooden barrels? I know! Because the wood doesn't actually matter and it's much cheaper to manufacture non-wooden containers! A&W, quit the crap and slap an A&W logo on a generic plastic bottle!

Longest-time-between-posts update
Posted by Charlie Hayes on Tuesday July 29, 2008 @ 6:14 PM EST
Noteworthy things happening in my life since my last update that I can remember:
My car (1997 Maxima) wouldn't shift; took in for repair; would cost $4000 to fix rusted-through core support; Got new 2008 Honda Fit.
Got new computer, Mac Pro, with insurance money from my PowerBook being stolen (jerks).
Had a super fun time at computer camp, as always.
Scuzzy had cancerous bump removed and was diagnosed and treated for Addison's Disease.
Katie and Charlie visited, we had a great time at Zoombezi Bay. If interested, please ask about Pickle Soup.
Had my car smashed by some drunk people; Insurance company considers it a collision: won't pay; Police don't consider it a collision: won't investigate.

One of the more useful Wikipedia categories
Posted by Charlie Hayes on Saturday April 19, 2008 @ 2:08 AM EST

Saw this on the way home from Chicago!
Posted by Charlie Hayes on Monday April 14, 2008 @ 10:29 PM EST

I count at least 8 cops.
At least two more were on their way =/

Microsoft IntelliMouse Explorer 3.0 Remake: Plug-and-Play
Posted by Charlie Hayes on Tuesday April 8, 2008 @ 11:06 PM EST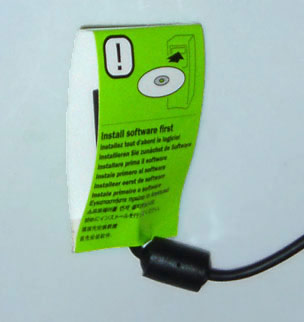 Microsoft en robes the USB cord of their hardware with "Install the software first" warnings.
It works in 1 second when you plug it into a Mac without installing software first.
After "Found new hardware", "Found new USB device", "Found new HID device", "Found new mouse", "Found new Microsoft IntelliMouse", 5 beeps and 15 seconds later, it works on Windows without software too!

Apple USB Extension Cord: Why make it proprietary
Posted by Charlie Hayes on Tuesday April 8, 2008 @ 10:50 PM EST

What's funny is that normal USB cords still fit =/
Keyboard on the left, extension cord where keyboard plugs into on right

First post of the new year! =(
Posted by Charlie Hayes on Thursday March 6, 2008 @ 11:56 PM EST
So since the last post, I had a fun time in Chicago at the end of December, got burglarized in January, and my CPU or Motherboard died in February.
Also, Team Fortress 2 came out, I played it a bunch, and while installing snapped this shot: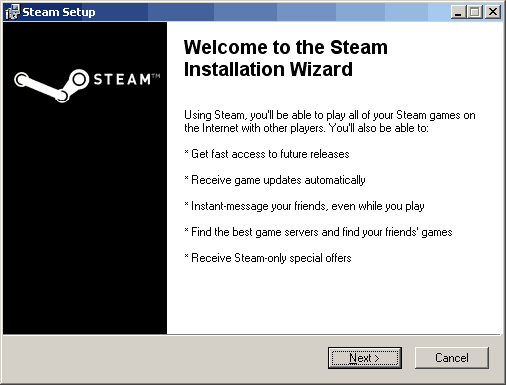 They missed the most important feature! You can play the game you just bought!

Dell's Tech Support
Posted by Charlie Hayes on Saturday December 15, 2007 @ 12:29 AM EST

I'm glad Dell at least recognizes what people want.